Special Offering for Lahaina UMC, Hawaii, USA
News
---
In worship on 17 September, ESUMC will take a special offering for the victims of the recent fires in Maui, Hawaii, USA. Marilyn Brandl shares a reflection on the Lahaina United Methodist Church community.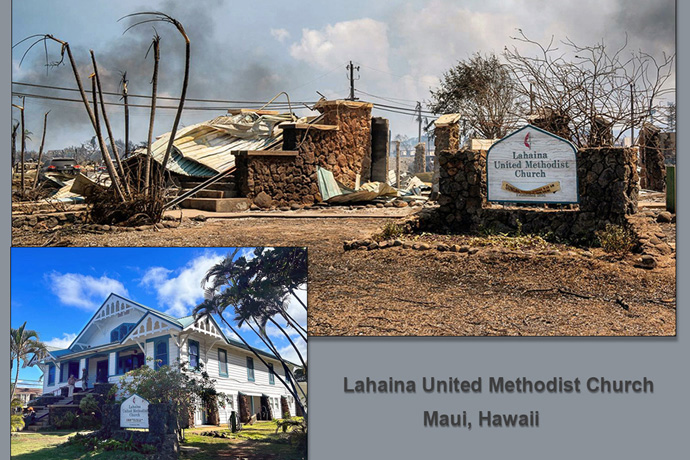 Special Offering for the Lahaina United Methodist Church
by Marilyn Brandl
On August 8, 2023, devastating wildfires, fueled by months of drought and high winds from a nearby hurricane, swept through the once royal capital of Hawaii, Lahaina, on the island of Maui. The fires destroyed the entire historical town of Lahaina. https://www.umnews.org/en/news/special-sanctuary-lost-in-maui-fires
Among the buildings lost was the 100-year-old historic Lahaina United Methodist Church (LUMC), which has been my second church home since my sister, Roz Baker, moved to Lahaina in 1980. Roz has been their organist for over 40 years and has held many leadership positions as well as being a lay speaker. I have accompanied many singers and instrumentalists who played at Christmas Eve and Christmas Day services, where the sanctuary was always overflowing and people were sitting/listening outside. The Tongan Choir (singing in their native language) and the Ukulele Choir (consisting of the Pastor, Roz, and other members) are a fixed part of each worship service. They also have religious hula dancing on special occasions. Worshipping with them is truly a one-of-a-kind experience.
The church began in 1896 as a Methodist Mission (read the full history of the church on their website: https://lumcmaui.org/ ). The church today is very diverse, rich in the traditions of the Hawaiian islands, yet firmly rooted in the United Methodist faith. They have many ministries, including a pre-school program and offering a free lunch to the homeless once a week, all year round. They have 75 members, but they count heavily on the thousands of tourists visiting the island and attending Sunday worship with them. Those tourists and their financial support are now missing, and will continue to be absent as the area slowly recovers and starts to rebuild.
We here at ESUMC would like to support our Lahaina brothers and sisters in Christ by making a donation to rebuild their church. They are currently meeting for Sunday worship in people's homes or in hotels, but they hope to be able to start on their new church building as soon as all of the hazardous materials, ashes, and rubble have been removed, and it is safe to walk on the land again. I ask for prayers for the people of Lahaina, and I invite all of you who are willing and able, to open your hearts to the congregation of LUMC, and give as much as you can to help them rebuild their church. We will take up a special offering during the worship service on September 17. As they would say in Hawaiian: Mahalo for your generosity and support! In plain English: Thank you, and God bless!